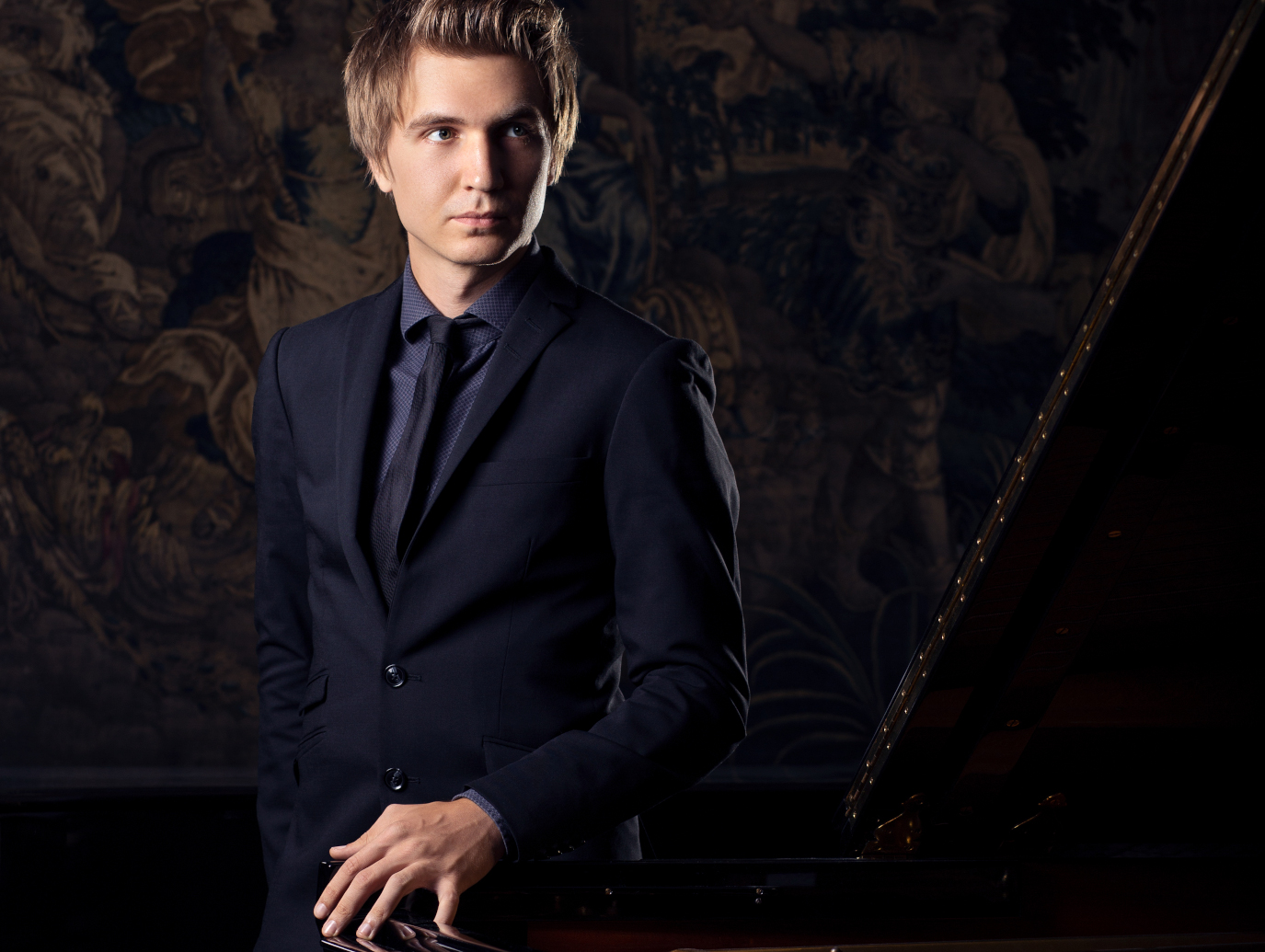 viernes, 17 junio 2022 - 19:00
Tickets on sale from May 30th.
>>> ONLINE PURCHASE – click here <<<
Born in 1992 in Uzbekistan, Evgeny Konnov started studying piano at the age of four with Natalia Krivosheina. In 1999 he was admitted to the Gnessin Music School in Moscow where he studied under Tatiana Sarkisians' supervision. From 2008 to 2012 he with Natalia Syslova Academic Music College in Moscow and then transferred to the Hochschule "Robert Schumann" in Düsseldorf with Georg Friedrich Schenck. In 2013 he began his studies with Evgenia Rubinova at the Leopold-Mozart-Center of the University of Augsburg. Since 2017 he has also been studying with Prof. Albert Mamriev at the Piano Academy Neue Sterne in Hannover and with Prof. Jan Gottlieb Jiracek von Arnim at the University of Music and Performing Arts Vienna.
Among the many medals he won, we mention the first prize at the Maria Canals Competition in Barcellona in 2018. His carrier as a concert piano, both as a soloist and with Orchestra, led him to play in prestigious concert halls and important institutions in Germany, Spain, France, Russia, Italy, The Netherlands, Austria, Poland, Malta, Uzbekistan, Japan and Morocco.
Ettore Pozzoli International Piano Competition (Seregno). Founded in 1959 by Gina Gambini to commemorate her husband, the great teacher and composer Ettore Pozzoli (Seregno, 1873–1957), the competition is held every two years. The setting for the event is the new Auditorium and the ancient San Rocco Theatre in Seregno, where the demanding selections and the final take place respectively, with the award ceremony. Authoritative names in the field of music appear both in the historical register of the Jurors and in that of the winners. Among these stands Maurizio Pollini, who won the coveted first prize at the inaugural edition of Pozzoli.
Alexander Scriabin International Piano Competition (Grosseto) Created, instituted and directed by M ° Antonino Di Cristofano, since 1999 the Alexander Scriabin International Piano Prize has always had as its primary objective the dissemination of the music of the great Russian composer and the enhancement of young keyboard talents. In the list of winners, there are several names of famous concert performers. The Junior Scriabin Competition will also start from the 2020 edition for the very young up to 14 years of age.
---
LUDWIG VAN BEETHOVEN (Bonn, 1770 – Vienna, 1827)
Sonata n. 13 in mi bemolle maggiore, op. 27, n. 1 «Quasi una fantasia»
I. Andante
II. Allegro molto e vivace
III. Adagio con espressione
IV. Allegro vivace
SERGEJ RACHMANINOV (Velikij Novgorod, 1873 – Beverly Hills, 1943)
Sonata n. 2 in si bemolle minore, op. 36
– Allegro agitato
– Non allegro
– L'istesso tempo – Allegro molto
FRANZ LISZT (Raiding, 1811 – Bayreuth, 1886)
Da '12 Études d'exécution transcendante':
n. 1 Preludio
n. 2 Molto vivace
n. 3 Paysage
n. 4 Mazeppa
n. 10 Allegro, agitato molto