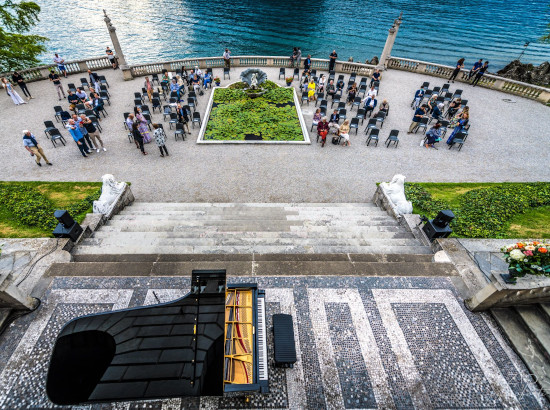 The new edition of the LacMus Festival will be held from 6 to 17 July in the magnificent setting of Lake Como and Brianza.
The 7th edition has exile — both the person and the condition — as its main theme, as a bow to the resilience of the many great artists who experienced it. Besides Sergej Rachmaninov (2023 marks the 150° anniversary of his birth), many other composers who shared his condition of exile: Fryderyk Chopin, György Ligeti, Igor Stravinskij, Kurt Weill, Bohuslav Martinů, Erich Wolfgang Korngold, Gioacchino Rossini, Arnold Schönberg and Liszt with his work inspired by the Italian exile par excellence, Dante Alighieri.
Alongside the major soloists from all over the world such as pianist Hélène Mercier, cellist Jan Vogler, sopranos Anna Pirozzi and Christiane Karg the Festival will host a good number of young talents including cellists Jaemin Han and Luca Giovannini and pianist Illia Ovcharenko, recent winner of the Honens International Piano Competition in Canada. A special mention goes to the extraordinary presence of the Milan Cathedral Chapel, the oldest musical institution in town and one of the world's most ancient of its kind.
Like every year, LacMus Festival has something new in store. This time it is the first edition of the "Countess Guglielmina Durini Litta" Piano Competition, dedicated to the 19th-century noblewoman from Milan, who was both a relentless cultural promoter and an excellent pianist. The prize will be awarded on July 9, during the evening concert at Castello Durini.
As always, all concerts take place in locations of great beauty, due to either landscape or art—Villa del Balbianello, Villa Carlotta, Villa Melzi d'Eril in Bellagio, the Castello Durini in Alzate Brianza, the now traditional Musical walk along a stretch of the Lake Como Greenway, the Beata Vergine del Soccorso Sanctuary (UNESCO Memory of the World), the lakeside gardens in the Mezzegra Park, the Grand Hotel Tremezzo, plus two new entries, the Teresio Olivelli Park and the San Benedetto Abbey in Val Perlana, which join the many other places LacMus Festival promoted in its territory.
More on lacmusfestival.com