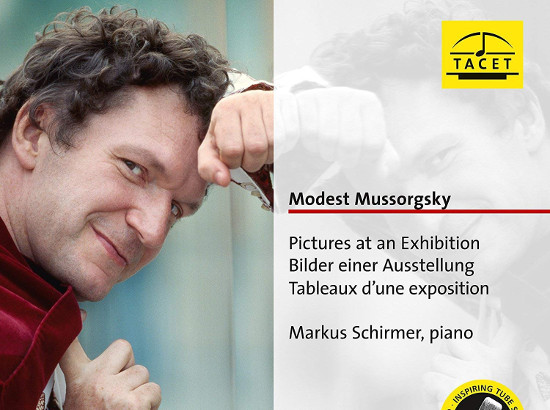 Recorded on a Fazioli F278 at the Helmut List Halle in Graz, Austria.
PICTURES AT AN EXHIBITION
Modest Mussorgsky
Markus Schirmer, piano
Tacet L132 – 1 LP 180 gr
At every single moment one senses that Markus Schirmer knows what he is playing. His enormous sensitivity enables us to immerse ourselves entirely in the atmosphere of the "Pictures". Even in the short movements Schirmer sets a current in motion that we can hardly resist being drawn into, thus giving his interpretation a literally breathtaking density and power. "Five stars (highest rating) and editorial recommendation." klassik.com (Germany)
Continuing Tacet's series of vinyl recordings, this 180g vinyl LP of Mussorgsky's Pictures at an Exhibition, recorded by Austrian pianist Markus Schirmer in 2004, is available in famous reverse playback mode.
In this recording, Schirmer impresses here with well-thought-out, succinct and precisely-measured effects, which are shown off to their best advantage on the Fazioli piano in the Helmut List Halle in Graz, Austria.
Distribution: Sound and Music Srl.