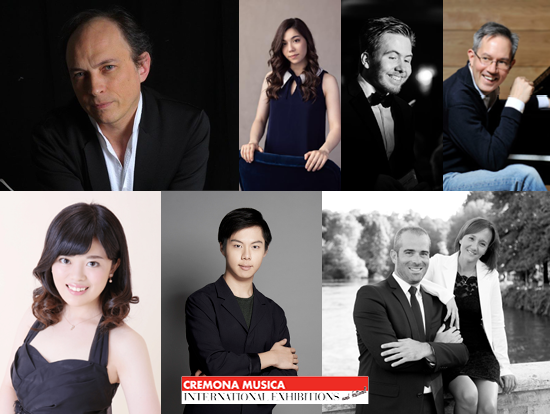 Six events will celebrate the exhibition of a Fazioli grand piano model F278 at the Zelioli Lanzini Hall of the Cremona Trade Fair during the anticipated Cremona Musica 2023 event. Between September 22nd and 24th, the remarkable instrument from the esteemed piano factory in Sacile will be displayed for anyone interested in trying it out or listening to it. Skilled guest artists will perform at the Fazioli Festival @ Cremona Musica to showcase its powers.
The Fazioli Festival will kick off on Friday, 22 September at noon with Han Chen, a Chinese pianist born in 1992 cited by the New York Times for his "graceful touch", "rhythmic precision" and "hypnotic charm". At 3:00 p.m. it will be the turn of the Duo Amadeus, created by Alberto Nosé and Valentina Fornari. Characterized by a repertoire ranging from Bach to jazz music to transcriptions – many of which were edited by Nosé and Fornari – they have always been attentive to the search for composers less known to the general public.
Two concerts on Saturday, 23 September: the first at noon with Carlo Guaitoli, a pianist with a long international career, professor at the Terni Conservatory and Artistic Director of the Alessandro Casagrande International Competition in Terni. In the afternoon, at 2:30 p.m., there will be an event dedicated to the prestigious Purcell School (United Kingdom): the director of the piano department, William Fong, and the students Kira Frolu and Thomas Kelly will bring to Cremona an intriguing program entitled London, Paris, New York; The Noughties.
Cremona Musica will come to a close on Sunday, 24 September: two will be the Fazioli events marking the day: at 11:30 a.m. Michele Campanella, pianist, conductor and writer, will present the book Interpretation. Or the possible breviary of the musician at the piano (ed. Castelvecchi). Japanese pianist Saya Ota, winner of the 2022 Massarosa International Piano Competition, will close the Fazioli Festival at 3:30 p.m. with pieces by Haydn, Debussy, and Schumann.
Write to info@fazioli.com to request an invitation to Cremona Musica 2023.