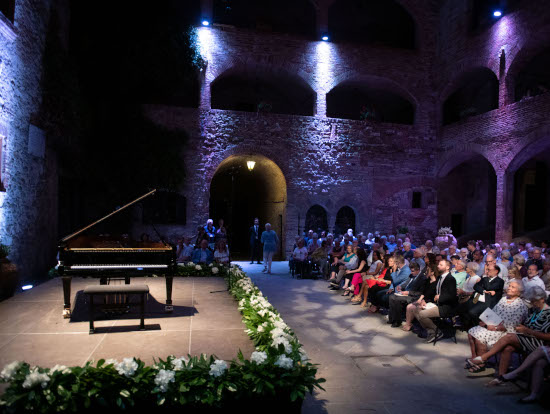 The 18° edition of the Trasimeno Music Festival directed by pianist Angela Hewitt will take place from June 29 to July 5.
The Festival will bring seven symphonic and chamber music concerts in characteristic and suggestive locations between Perugia and Magione (Oratorio di San Francesco dei Nobili, Sala dei Notari del Palazzo dei Priori, Castello dei Cavalieri di Malta, Chiesa di San Michele Arcangelo) during which affirmed artists and rising stars will perform together. Beside Angela Hewitt, the audience will find Joshua Hopkins (bariton), Tabea Debus (recorder), Samuele Telari (accordion), Petrit Çeku (guitar/mandolin), Benjamin Schmid (violin), Florian Eggner (cello), Riccardo Cellacchi (flute), Orchestra da Camera di Perugia and pianists Jonathan Ferrucci, Julia Hamos, Mishka Rushdie Momen.
Among the events not to be missed is the one on 5 July at Basilica di San Pietro (Perugia), where three Fazioli pianos will be played during the triple concertos by Bach and Mozart.
Like every year, the Festival will offer its audience two evenings with special guests. The first will be on June 30, when Eric Friesen will interview the award-winning writer Margaret Atwood; Atwood will also be present on July 1 at the European premiere of Songs for Murdered Sisters, the song cycle by Jake Heggie for which the Canadian writer is the author of the lyrics. July 3 will be the moment of actor Samuel West – accompanied by Angela Hewitt – in an evening dedicated to poems and love music.
The complete programme is available HERE.